In little less than two weeks the organ piece All People are Equal will have its premiere in Lund (Sweden). The piece is to be performed by Larsåke Sjöstedt. Adjacent to the the music there will be an exhibition compiled by Kerstin Svensson, teacher in Art history and artist. The music and the exhibition is a celebration of cultural openness and ethnic inclusion.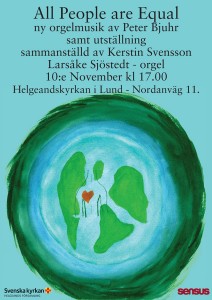 Poster art by Kerstin Svensson
As I have previously written
here the theme of cultural openness and humanism were determined from the start, but as the piece was written in July / August 2011 it obviously was affected by the terrible events in Norway at that time. I firmly believe though that the topic is relevant enough anyway without being linked to specific historical events. The title 'All People are Equal' is inspired by Peter Spier's book People and from the phrase 'All animals are equal (but some animals are more equal than others)' from Animal Farm by George Orwell. The piece has nine sections with the following headings:
1. stand firm against racism and discrimination
2. all humans are sisters and brothers
3. minority rights, majority obligations
4. don't be scared of the unfamiliar
5. open your eyes against the world
6. much to feel sorry and angry for
7. love and integration
8. in your mind and actions...
9. we are all alike
Update: the concert was postponed due to circumstances I cannot go in to here. The piece was finally premiered on 25 october 2014.